Sulfide Mining District planned for Minnesota's Arrowhead Region
The First: PolyMet's NorthMet proposal
PolyMet proposes to mine a sulfide ore body on U.S. Forest Service land south of Ely. This would be the first sulfide ore mine to be permitted in the state of Minnesota. However, additional proposals for sulfide mines will soon follow. Mining companies are exploring across Minnesota. How the PolyMet proposal is treated by Minnesota's permitting agencies is particularly critical in light of these coming proposals. The PolyMet mine site covers about five square miles, two square miles of which are wetlands that will be destroyed. The mine plan calls for an open pit strip mine, producing millions of tons of waste rock, some of which will contain sulfide mineralization. Despite the fact that the Environmental Impact Statement is now being prepared, the company has not yet determined how it will treat its waste rock, making any determination of the potential for Acid Mine Drainage (AMD) impossible. Potentially affected waters include the Partridge River and the Embarrass River, which are tributaries of the St. Louis River and Lake Superior.
Proposed Sulfide Mining District in northeastern Minnesota information found HERE
Sierra Club's - PolyMet "Prove It First" fact sheet on PolyMet Project found HERE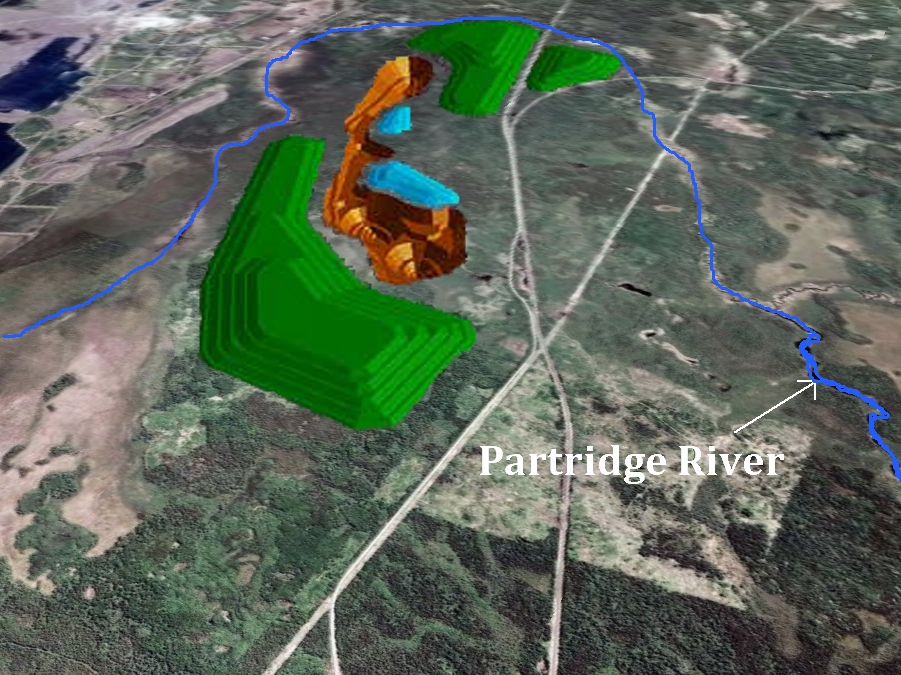 PolyMet NorthMet Copper-Nickel Sulfide Strip Mine Project
Proposed PolyMet NorthMet strip mine site location in northeastern Minnesota
From the Minnesota Department Of Natural Resources Website:
http://www.dnr.state.mn.us/input/environmentalreview/polymet/index.html
PolyMet Mining Inc./NorthMet Project
PolyMet Mining, Inc. (PolyMet) proposes to develop an open pit mine and to refurbish and modify the former LTV Steel Mining taconite ore processing facility to extract copper metal and precipitates of nickel, cobalt and precious metals near Babbitt and Hoyt Lakes, Minnesota. The DNR and the U.S. Army Corps of Engineers are preparing a joint Environmental Impact Statement (EIS) that will satisfy both state and federal environmental review requirements.
The DNR and U.S. Army Corps of Engineers took comments on the proposed EIS scope during a 30-day scoping period that concluded on July 6, 2005. A public scoping meeting was held on June 29, 2005, in Hoyt Lakes, Minnesota. The Final Scoping Decision operates as a blueprint for EIS preparation.
The DNR and U.S. Army Corps of Engineers are in the final stages of preparation of a draft EIS for public review. Progress updates will be posted here periodically. A number of fact sheets are also available below.
Inquiries can be made by contacting Stuart Arkley at (651) 259-5089, or sent by mail to Minnesota DNR, 500 Lafayette Road, Saint Paul, MN 55155.
You may also send questions or comments by email (be sure to include "PolyMet" in the subject line) to Environmental.Review@dnr.state.mn.us.
The Scoping Environmental Assessment Worksheet (EAW) and the Draft and Final Scoping Decision documents that the DNR prepared to assist in identifying the issues and analyses to include in the EIS are available below:
http://www.dnr.state.mn.us/input/environmentalreview/polymet/index.html
Division of Lands and Minerals
Marty Vadis, Director
tel. (651) 259-5959
fax (651) 296-5939
The Division of Lands and Minerals manages the state's mineral resources for the benefit of all Minnesotans and provides a range of real estate services supporting the resource goals of the department. The Division manages mineral exploration and mine development on state-owned and tax-forfeited lands in Minnesota to generate equitable rental and royalty income for the state's School and University trust funds, local communities, and the state's General Fund.
Equally important is the Division's stewardship of state lands for future generations. The division is responsible for ensuring that mineral development is environmentally sound, and mined areas are reclaimed to be safe, free of pollution, and suitable for future use.
The Division also maintains surface and mineral land records for state-owned, DNR-administered lands.
http://www.dnr.state.mn.us/lands_minerals/index.html
Mining Minnesota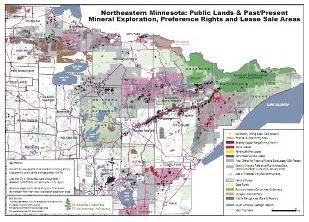 Click on image to see larger view of Minnesota Center for Environmental Advocacy's (MCEA) Map of Northeastern Minnesota: Public Lands & Past/Present Mineral Exploration, Preference Rights and Lease Sale Areas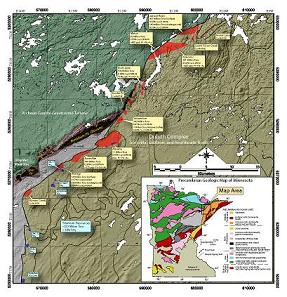 Click on image to see larger view of the "Duluth Complex" DNR
More Mining Minnesota...